To hear my mom tell it, she spent her childhood in a very different West Seattle, one she calls blue-collar and comfortable. The tiny bungalow at 3116 SW Webster where Mom grew up was one dozens of old homes recently lost to Seattle's housing boom. As adorable and historical as the house and others like it were, I hope people remember most the people who lived and loved in these rapidly disappearing spaces.
My grandmother, Dolores, lived in Honolulu just before World War II. She and my aunt Fay were caught there on December 7, 1941, and whisked to safety in the caves above Pearl Harbor. They were forced to return home to Seattle shortly afterward, and Grams bought the Webster Street house not far from her parents and siblings, who lived in Arbor Heights. While the men were away fighting the war, she worked as a Rosie the Riveter at Harbor Island. She loved the opportunity to work for her own money and would be devastated to return the job to the men when the war was over. She soon lost her first husband, Barney, who was overseas in the Navy fighting in the war. She later married my grandfather, Jim, and they had my mom in the 1940s.
The house was about 800 square feet of arched doorways, dark hardwood floors lurking underneath old 80s carpet, and metal kitchen cabinets that opened with a ping. The dug-out basement had only a dirt floor and no foundation, which created a dank place we kids found deliciously creepy. One small bedroom and another tiny half-bedroom no bigger than a walk-in closet were all the sleeping spaces. A small formal dining room and two porches, front and back, expanded the space a little. In a moment of toddler terrorism when I was two, I decorated the front porch with stickers from the Publisher's Clearing House mailing, licking and sticking little perforated magazine titles firmly onto the clean white walls. I'm not sure my grandmother ever successfully removed all the residue.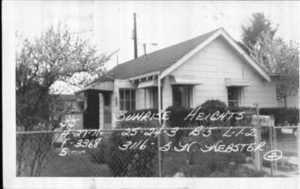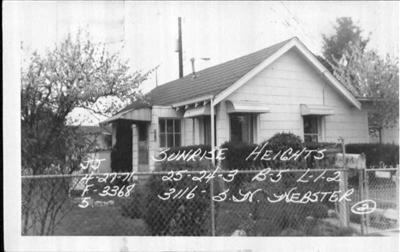 The yard may be what I remember most: a beautiful Bing cherry tree in which my grandfather built two swings (one for my brother and one for me), a heart-shaped rose garden dug and tended by my grandpa, raspberry bushes growing out of control, spearmint crawling along the grass, and a huge garden yielding corn, rhubarb, and green peas—all surrounded by first a white picket fence (really) and then later, a chain-link fence.
We'd swing for hours from the cherry tree in the summertime. Then we'd walk up to B's Deli on 35th Avenue SW—yes, the one with the cow on top–where my grandfather would buy us ice cream dixie cups we'd eat with thin, flat wooden spoons. When the cherries were ripe, they were even better than ice cream, though.
The small, friendly block was perfect for us to roller skate or bike around, and we'd draw hopscotch outlines with colored chalk on the sidewalk long into the warm Seattle summer nights, enjoying the freedom of being 70s kids. We built rock collections from the alley, which was dusty, unpaved, and covered in interesting gravel back then. We licked the bitter grit off the rocks to see if they were pretty until our parents stopped us.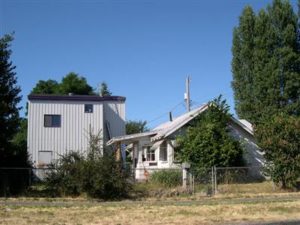 After my grandma's passing in 1997, my mother sold the house, and the cherry tree was cut down. The new owner built a huge workshop in the back yard, perhaps to help with a renovation–the house had no foundation in my grandma's time. There was a fire at the house in 2014, apparently due to an extension cord. The house slowly appeared to fall into disrepair after that, then into foreclosure. The lot now hosts a new, blocky, 1300-sq-ft house valued at $468,000, according to Zillow's Zestimate. Somewhere, my grandparents are laughing.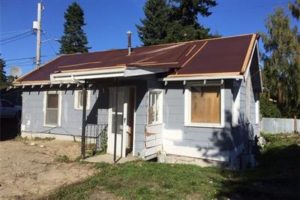 My grandparents were the type of grandparents you dream of: loving and kind. My grandfather was raised in Arkansas, and his gentle southern charm and accent still echo in my heart. My Grams was my soul sister: funny, unpretentious, and my biggest fan. She loved the house, and I did too, especially for its memories and the comfort it gave us.
And for the cherries. Especially the cherries.