JoAnne Dyer is freelance communications professional.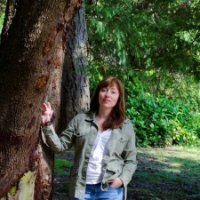 She specializes in working with people and organizations making the world a better place: the change-makers and cage-rattlers whose hearts and determination bring us all forward.
Her education includes a Bachelor's in Communications/Advertising from the University of Washington and advanced copy editing training at the University of California San Diego. She is thrilled to now edit and write for a living, which she's dreamed of since she read her first Laura Ingalls Wilder book at age 7.
Her clients include authors, independent publishers, nonprofits, small businesses, and students. Most recently, she edited Bravehearts by Mark Hertsgaard and Careercation by David Niu. Recent writing credits include Fifty is the New Fifty, DesertUSA magazine, and Seattle Maison. She's currently a content editor and writer for PR for People's The Connector magazine.
JoAnne is a member of the Northwest Independent Editors Guild, the American Copy Editors Society, and the Editorial Freelancers Association. She edits mainly nonfiction (self-help, personal growth, history, and cooking) and directs her writing and media relations efforts toward advocacy and lifestyle media.
In her free time, JoAnne evangelizes about independent film and develops healthy vegetarian recipes.
She desperately craves a daily hike in the red canyons of Southwest Utah, though she lives and works in Seattle.
TESTIMONIALS
It is always a delight working with Seven Madronas Communications. JoAnne continues to bring to the table that rare combination of understanding the intent of the writer and magically fiddling, ever so delicately, with structure and flow in a way that intensifies the message.  She recently helped us at Seattle Jobs Initiative with our 2015 Report to the Community.  Not an easy task as it was long and filled with profiles.  After JoAnne's wizardry was complete, the document read just as I had hoped – a moving story of an agency that does miraculous work on multiple levels.